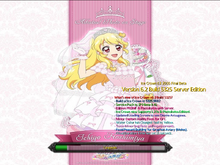 Ice Crown E3 2016 Build 5325 v2 is the E3 2016 Final Beta, It was Released on 2016-06-17.
This Build allows Supporting for Warcraft 3 Version 1.27a Patch & Photokatsu Edition.
Changelog for v6.2 Build 5325 v2
Edit
- Build of Ice Crown is: 5325.9882
- Service Pack is: SP9 Beta 0.41
Ice Crown now Supports 1.27a & Photokatsu Edition!
Updated Loading Screen to see Otome Arisugawa (Planned)
Minor Custom Ability Fixes for Orc Race.
Water Color has Changed Teal/Cyan to Yellow.
Fixed Peasant Building for Gryphon Aviary (Melee)
Cloud Duration Time has set 15 Seconds.
Major Changes
Edit
Peasant can now Building Gryphon Aviary (Melee)!, instead Gryphon Aviary (Custom).
Screenshots
Edit
TBA.
---
Back to History Ice Crown