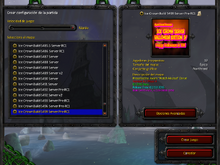 The Ice Crown E3 2012-2017 is the Presented build they will available some Prototypes.
Once again, Ice Crown are still Development, Please make sure there is some bugs that can be sended on my email here.
On Q4 2016, It was Announced that will be Final release until November 2016, It will be codenamed "Bluestone Aikatsu!".
Later it was Final Release, the Build 5602 is Released on 2017-01.
You can check History Ice Crown to see for some Builds that released since May 2013.
Screenshots
Edit
The E3 2012 was Released in Early Development on August 30, 2012, Some Prototypes was included.
The Earliest known Version for Build, Starting as named Ice Crown Remastered, Fortunately it will changed until 2016 as named Ice Crown Server after appearing Build 5236.
Starting in E3 2014, Ice Crown has continued after going Build 4013, Over Build 4008, It was last build in E3 2013.
E3 2015 was Premiered after New Year 2015, Currently it was under Development, It will be continued until 2016.
E3 2016 was Premiered since 2016-02-24. Sometime it was now Development Status is now Back again.
This will be Added Screenshot, However it will available until Future for new Build.
Coming Soon.